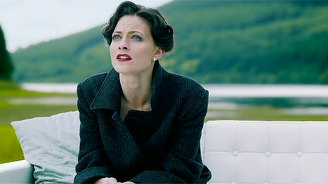 This article was written by Cyberbarber. Please do not make any changes to this fiction without receiving the author's consent.
Beginnings is the first of 12 parts in the Apocalypse Story arc of Series 8. It is the 12th Doctor's first episode. Her new companion, Ffion, also debuts in this episode.
Plot
The Doctor arrives on earth after saying a tearful farewell to her oldest friend, the TARDIS. She is also unaware of River's whereabouts but assumes she's been pardoned from her prison sentence to become a full time archeologist like River had hoped. Knocked out by the regeneration fumes, The Doctor is saved by Farmer Shaw and taken back to his home which he shares with his dying wife and daughter, Ffion.
The Doctor wakes up 3 days later in a log cabin in the middle of no where with only Ffion for company, she soon reveals that her Mother died, but the Parasite reanimated her as a host and Ffion's father has also disappeared, she soon reveals she managed to escape in her car with little supplies. The doctor is speechless, but pulls out a panel from her pocket and discovers what's happening across the planet using a visual hacking system. A virus is spreading, reanimating the dead, the cause is unknown. But, the Doctor is convinced she can cure the virus and save 1,000s of dying humans before it's too late. They take the panel and connect it to the car's digital computer system, overiding the system, creating an all new Time travelling/flying vehicle. The Doctor and Ffion smile and head straight for London.
Cast
Lara Pulver as The Doctor
Lenora Crichlow as Ffion Shaw
Mark Lewis Jones as Farmer Shaw
Di Botcher as Mrs Shaw
Lucy Owen as herself/BBC Wales Newsreader
Matt Smith as The Doctor (Voice/Cameo)
Behind the Scenes/Trivia
This is the first ever episode of Doctor Who to feature a female Doctor besides Joanna Lumley in 'The Curse of Fatal Death', which is not considered canon.
Ffion actress Lenora Crichlow has appeared in Doctor Who before, in the 10th Doctor episode, Gridlock.