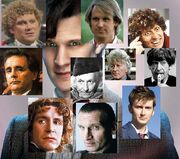 The Time Particle is a one off anniversery special of the Sci-Fi series, Doctor Who. It Aired on the 23rd of November 2010.
Plot
The Doctor faces the biggest threat ever, Time, and he wants the doctor's TARDIS, so, the must call on all 10 of his past selves to work together to form the ultimate time travelling device, along with all loved companions, the doctor is about to face facts
Cast
Matt smith
David Tennant
Christopher Eccleston
Paul Mccgan
Sylvester Mccoy
Colin Baker
Peter Davison
Tom Baker as the Doctor
with Archive footage of:
Jon Pertwee
William Hartnell
Patrick Troughton as the Doctor
Carol-Anne Ford as Susan
Fraiser Hines as Jamie
Wendy Padbury as Zoe
Katy Manning as Jo
Elizabeth Sladen as Sarah Jane
Sarah Sutton as Nyssa
Janet Fielding as Tegan
Nichola Bryant as Peri
Bonnie Langford as Mel
Sophie Aldred as Ace
Daphne Ashbrook as Grace
Billie Piper as Rose
Freema Agyeman as Martha
Catherine Tate as Donna
Bernard Cribbins as Wilf
Karen Gillan as Amy
Arthur Darvill as Rory
Nicholas Courtney as The 'Brig'
Nicholas Briggs as The voice of 'Time'
Ad blocker interference detected!
Wikia is a free-to-use site that makes money from advertising. We have a modified experience for viewers using ad blockers

Wikia is not accessible if you've made further modifications. Remove the custom ad blocker rule(s) and the page will load as expected.